Business as Usual
Change we don't believe in.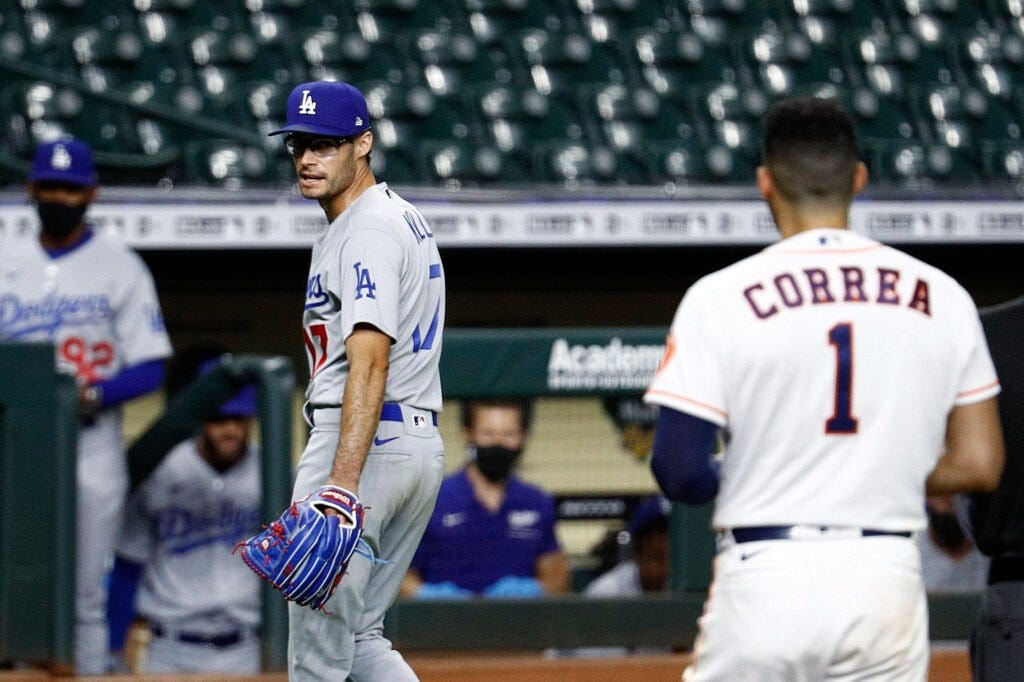 Photo: The Athletic
Baseball is back. Of the sports to return, baseball has felt the most like its normal product. Watching a baseball game being played in a mostly empty stadium isn't exactly a new thing and baseball is a sport where fans don't add to the intensity as much as other sports like football and basketball. Last week, the Los Angeles Dodgers swept my favorite team, The Houston Astros, and the games felt intense. There was the added drama that everyone hates the Astros because they were exposed as cheaters for stealing signs (but really for not being the Red Sox or the Yankees who also cheated). The year they got caught stealing was the year they beat the Dodgers in the 2017 World Series. The Dodgers, rightfully, want the Astros to suffer consequences and the Astros, rightfully, don't want their players to be injured intentionally. It got heated and watching these two games and watching the Astros lose them was the most normal things I have felt for me since the pandemic began. With the NBA also coming back last week it feels like we may be recapturing some of our pre-pandemic lives.
There seems to be the prevailing thought that things can and should go back to as they once were. Working to recapture our pre-pandemic life and its comforts. We all desire a level of normalcy. This upcoming election there is hope we can go back even before the and turn back the country to it's pre-Trump state. We can't. The policy makers and the wannabe politicos want to get back to "business as usual". The "Make America Great Again" racists are looking to recapture a level of control they believe they have lost. The "Never Trumpers" are hoping to recapture a level of control believe they lost. Moderates are looking to reestablish the status quo of pre-Trump government to recapture a level of control they believe they lost. Police forces are attempting to beat people into respecting them to recapture a level of control they believe they have lost. Tech CEO's want to keep making money and be celebrated as geniuses without having to think about the blood on their hands. Newspaper columnists want to go back to not hearing how people really feel about their shitty takes.. We want things to be like they were in this imagined peaceful past. I fear we are not paying attention to how things are or how they are going to be.
It's not radical or even insightful to say our country is in trouble. I am mostly perplexed by how many people aren't preparing for what's next. Myself included. Being an American this century is really about being comfortable. I have to really look at the things I am okay with happening that don't effect me directly. I am comfortable while our government is killing people who aren't Americans and I am comfortable while our government is killing people who are Americans. I am comfortable while children are being held in cages at the border. I am comfortable while there is oppression and murder of trans peoples. I am opposed to those things morally, but I have done nothing significant to stop them from happening. I am a huge fan of doing absolutely nothing. I like to watch sports on my TV and playing video games. Those two things are in better shape than almost anything else. Baseball, the sport that has felt the least affected in the execution of its product is a complete fucking mess. I have suffered financially and my job my kill me, but all things considered I am still able to enjoy my two main comforts as our country is continuing to fall apart. No, I am not prepared for what happens when I can no longer hide within my comforts.
I have no idea what the future will hold. My guess is the next 5-10 years will be some of the toughest and most challenging since the World Wars. I think we will see even more dramatic change in our daily lives and even more people are going to die from disease and poverty. I don't think things can or should go back to how they were. Life and the world is constantly changing and we need to prepare ourselves to embrace that change or be ready do something to change it even more. We should be learning from the past not trying to recapture it. The people who are in charge will be working to get us back to the version of the world that benefits them the most. If we really want things to be better we need to be ready. We need to be prepared for what's next.
This piece in The Atlantic by Richard Russo on the death of George Floyd and the question "Will White People Forget About George Floyd?" really made me think about what happens if things go the other way. I've just said I feel like the world is changing, but what if it isn't? What if the fight to get things back to "Business as Usual" wins out. We know too much now about the horrors that exist to maintain that comfort. Being comfortable should not be enough when people are suffering. I don't want to go back. I want to do something about it.
In Other News…
I plan to write about YouTube in a future post. I love YouTube, but it's not without its problems. I will share some channels I really enjoy and do my best to talk about what's wrong with the platform. Despite all of its problems it can still be useful to find new music and I would say 50-60% of new music I hear is from YouTube. It's how I found today's artist, Arthur Shea. I don't know much about Arthur, I just know he's based in Philadelphia and is also in the band Joy Again. I'm a huge fan of Animal Collective and back when YouTube's algorithm didn't suck, it recommended his cover of "Fireworks". Thankfully the YouTube channel noahmarino is sharing any and all Arthur songs they could find.
I enjoy very simple and unpolished music and what's here are all demos. Some of these are very very rough, but the first three tracks here really stuck out:
Poison (0:00)
honeydips (2:01)
Where Does All The Time Go (4:27)
Some of these songs can be found on his bandcamp as well and unfortunately he seems to have moved on saying, "I don't see myself doing anything them". He is more focused on his band Joy Again who I have enjoyed these songs from:
Joy Again - Looking Out for You
Joy Again - Necromancer
I look forward to following how his music progresses and hope I can see a live concert before I die from my own stupidity.
Links
I follow writers more than I follow particular websites or platforms, but you will notice some sites are repeated each week. I was a huge fan of Gawker, Deadspin and Splinter before rich people destroyed them so you'll see a lot from the people who used to work there:
Picture of the Week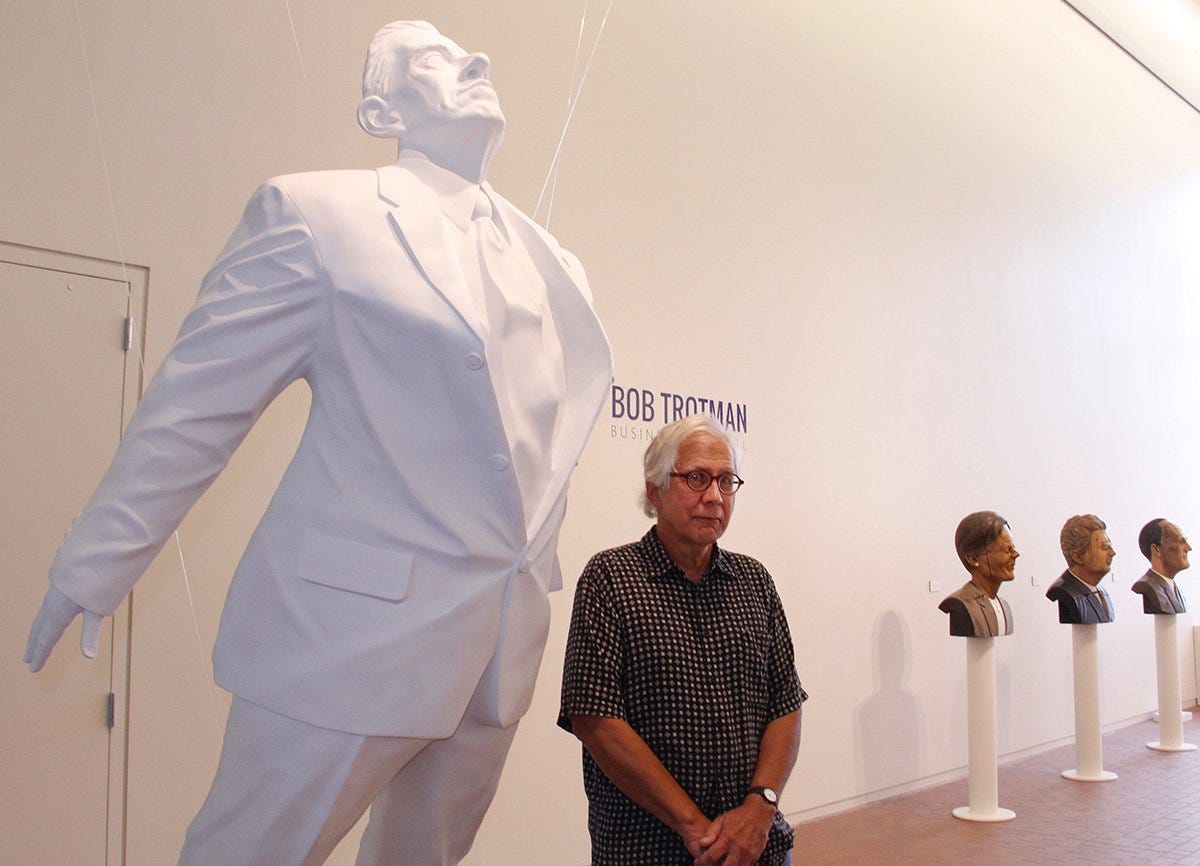 Photo: UNC Charlotte
-Joseph
You can hear me on the Twostonians Podcast usually bi-weekly, but don't hold us to that.
DISCLAIMER - All views, thoughts, and opinions expressed here or anywhere are my own and do not represent the opinions of any entity whatsoever with which I have been, am now, or will be affiliated or employed.