Not Allowed To Do That
I want to talk a little about where I am from and my dad.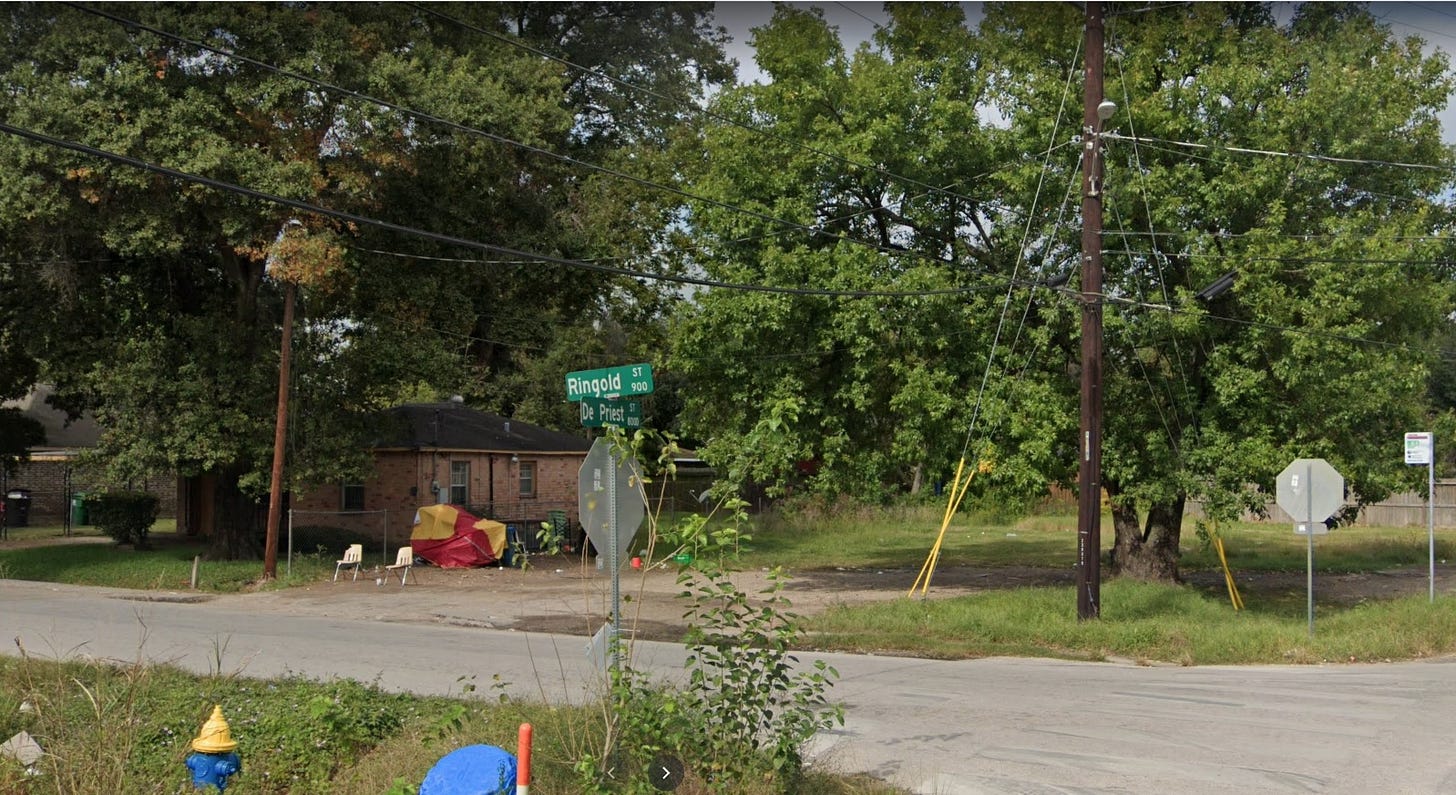 Photo: Google Street View
I grew up in the mostly Black Houston-area suburb of Acres Homes. Most people would not call Acres Homes a Houston-area suburb, they would call it "the hood". The people who say this know that it is a mostly Black neighborhood and in America mostly Black means, "ghetto" or "hood". If you ask me, I would call it country more than anything else. It's not unusual to see people riding around on horses or livestock in someone's backyard. When I was growing up our backyard would have beagles for rabbit hunting, chickens from time to time, and sometimes we would buy a hog to fatten up and slaughter. My block was a pretty quiet one, with mostly older people who lived alone and working-class families. the other side of Mount St. was rougher but nothing too out of line. The cops would come and bust the junkie house down the street from time to time, but that just meant all the neighbors would stand outside gossiping for a few hours and returning to our normal lives. It's a normal neighborhood just like any other, it has its rough spots and its own intricacies, but if you only know it as a Black neighborhood you only think about the "hood" part.
Growing up, I remember my dad had been arrested and was in jail for an extended period of time. He would get pulled over and cited for traffic violations often and more times than not could not pay the fine and that would lead to warrants. Eventually they would take him to jail for the outstanding debt and this time he was in long enough to get sent to the "P-Farm". If you're unfamiliar, it's short for Poor-Farm, back then if you owed more than a couple of days in jail would cover the City of Houston would send you to the farm for hard labor. I was maybe 7 or 8 when we went to visit him, and it was the first and only time I ever saw my father in a jumpsuit. My memory is foggy, but I think we were picking him up? He had never done more than a day or two in jail typically and the time he was at the farm was maybe a day at most. It's that image of my dad in that jumpsuit that stuck with me. I can never forget it. My dad would get routinely stopped by the cops in Acres Homes. They knew him by his street name, [redacted]. My dad was a hustler, who grew up in Acres Homes and would hang out under "The Tree" off De Priest and Ringold near the old "Blue Store" as we called it. The Tree was a spot where the wino's would hang out with bottles of cheap whiskey and pass it around all day. My Uncle Freddie was usually the one who would bring the bottles. The Tree was/is a place where you could get drunk, high, buy a hot TV or trade for something like a bike or a car. My uncle bought a 2008 Chevy Silverado under The Tree once, it was a magical place. I had a lot of nice things growing up that came from the magic of The Tree.
The cops seemed to leave them alone while at The Tree, not all the time, but for the most part it was okay to do business under The Tree. When my dad would leave though, they just KEPT fucking with him. Now, just for some context my father is Creole. He was born in Kinder, LA and raised in Elton, LA until he moved to Acres Homes in his teens. My father could pass for a White man if he had wanted and he would have killed anyone for even suggesting such a thing to him. Racism is funny like that. The one-drop rule turned a group of mixed-race peoples into a group of "niggers" in the eyes of White Supremacy. My father never questioned his Blackness a minute of his life, even though from my own personal experience I know his Blackness was probably questioned all the time. Maybe even by the cops who pulled him over. They may not have known he was Black, but they sure as hell knew he wasn't a person cops are supposed to respect.
I think about my dad and how many times he would get pulled over and how often that would lead to him ending up in jail because he couldn't pay the debts they created. I also think about how much worse it would have been for him if he had been maybe a few shades darker. I think about my dad when I read these stories on The Root. The first, is a story about police shooting at young Black children after a "routine traffic stop" and the other is about cops pulling their weapons on the young Black kids they had been called to protect. The cops don't have to respect Black people or their children, so they don't. White people don't have to respect Black people or their children, so they don't. This is a luxury exclusive to whiteness. White people don't even respect our names. The model minority badge is something that can be yanked from you at a moment's notice. Respect isn't really earned, you're either born into it or you're not.
During my teens, my friends from the neighborhood and I would spend most days during the summer at church or at each other's houses. We didn't always have cars or access to transportation often so we would walk to these places. When we did have a car sometimes there was a gun present. It's crazy to think about how lucky we were we didn't get pulled over when that was the case. We were just teens bullshitting around. The white boys at my high school would have gun racks in their pickup trucks. This is Texas, we love guns. Those white boys were allowed to have guns though. There's this perceived level of "earned" given to white men that isn't extended to anyone else. A Black boy with a gun is a danger. A white boy with a gun is the future of our nation. Kids do stupid shit and boys do the stupidest shit no matter the race or income bracket. Just mentioning that I was in a car full of young Black men and a gun was present may give you this idea about why when the truth is pretty tame, at least in Texas it is. It was his grandmother's car and his grandmother's gun she left under the seat. Black people want to protect themselves just like anyone else, only they aren't allowed to. We don't live in the same place or places. We don't get treated the same by the cops, by teachers, by judges, by anyone.
My dad dropped out of high school to join the Army when he was 17, about 2 years before the end of the Vietnam War. He was stationed in Germany mostly and came back to America and met my mother and they had two kids. He died 18 years ago from cancer and I miss him every day. He wanted his kids to grow up where he grew up and I am thankful for that.
Links
There is only one link I want to share this week. Last week was the three year anniversary of Charlottesville and Kim Kelly at Be The Spark shares what that day meant and still means to her, Three Years Later.
Picture of the Week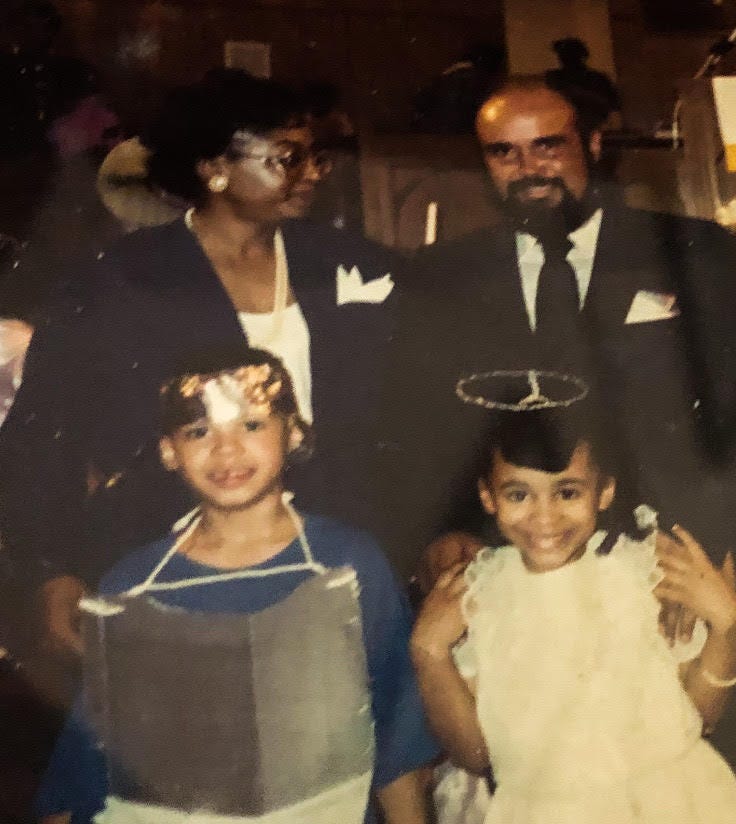 -Joseph
You can hear me on the Twostonians Podcast usually bi-weekly, but don't hold us to that.
DISCLAIMER - All views, thoughts, and opinions expressed here or anywhere are my own and do not represent the opinions of any entity whatsoever with which I have been, am now, or will be affiliated or employed.